Operations Note: This site remains operational as an educational example as well as testing tool.
Due to testing,the site may periodically be down.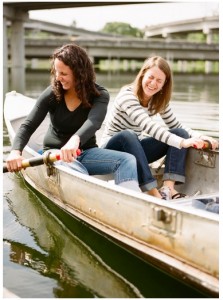 When Helen Fallat, 28, and Aimee Dailey, 34, got engaged, they didn't know marriage was on the horizon—that is, for the state of Washington. In August 2011, domestic partnerships were all the state offered, and they planned a commitment ceremony for September 2012.
In the interim the Washington legislature passed marriage equality bill, but with implementation on hold pending the vote, they wouldn't be able to actually wed in time to be September brides. The rental hall and caters had deposits so the show had to go on. And go on it did. The couple shared a day of commitment with their friends and family at the Guemes Island resort, that Helen's sister describes as "amazing."
They skipped registering for a domestic partnership because they are looking forwarding to marrying. Why does marriage matter? Aimee says she's looked for her partner all her life and marriage is an institution people understand, "Your kids will respect it, your parents respect it."
Helen's perspective is bit more pragmatic: "It's important having the state tell us they recognize the commitment we've made to each other, and that the state will respect and protect that."
The two are in complete agreement that there will children are in their future. When I ask, they both simultaneously inject an enthusiastic "Yes!" It's clear they've put a lot of thought into the endeavor.
Helen and Aimee live in Wallingford and both work as servers at the Coastal Kitchen in Seattle. Helen is studying physical therapy and volunteers at the University of Washington clinic. Why physical therapy? "It's the one-on-one relationship you build with clients I enjoy," she says. "You're helping them to help themselves."
What's the "for worse" part of the marriage equation for Helen? "Aimee's very neat. It's nice that the house is always in order, but I had to be trained."
And the "for better" part? Helen says "Aimee's passion for life. She's really excited just to be here, and live each day to the fullest. She's a pretty happy person."
Aimee says: "When you look at Helen you see the most genuine, kind person. She always has the best intentions towards all the people she meets."
Join The Fights!

Sign up for updates from the campaign