Operations Note: This site remains operational as an educational example as well as testing tool.
Due to testing,the site may periodically be down.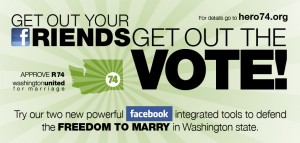 This November, every vote WILL count. We can't win unless our supporters reach out and remind their networks that this election matters.
And now we've created a social tool to help you do it.
Today, we launched our "Get Out Your Friends" Facebook application. The app makes it easy to discover who among your FB friends has voted, and who still needs a little reminder to cast their ballot.
By using the GOYF tool,supporters can cross-reference their Facebook networks with the state's publicly available voter database. The user can then send a message to their friends expressing their approval of the freedom to marry and activate their network to vote
"This is a 21st century voter tool that we believe our supporters will love and implement," said WUM campaign manager Zach Silk.
Once supporters vote, they can also create their own customized profile photo with a variety of Approve R74 graphics using the Approve 74 "I VOTED" tool.
Join The Fights!

Sign up for updates from the campaign